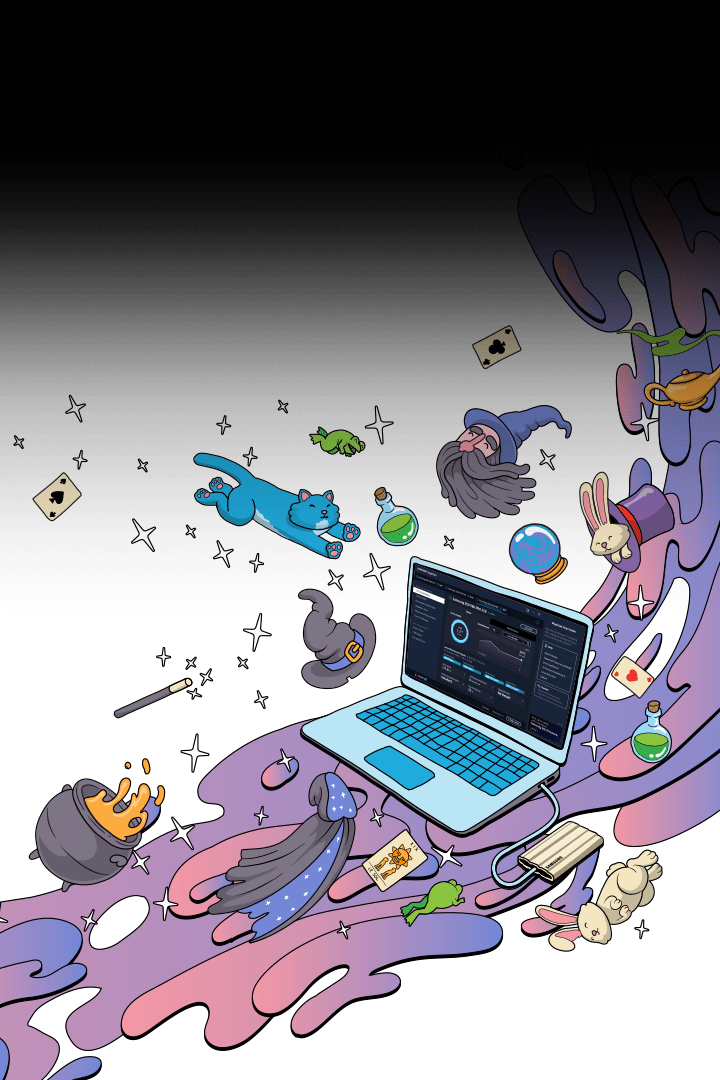 Magician Software 8.0
It's not magic.
It's software.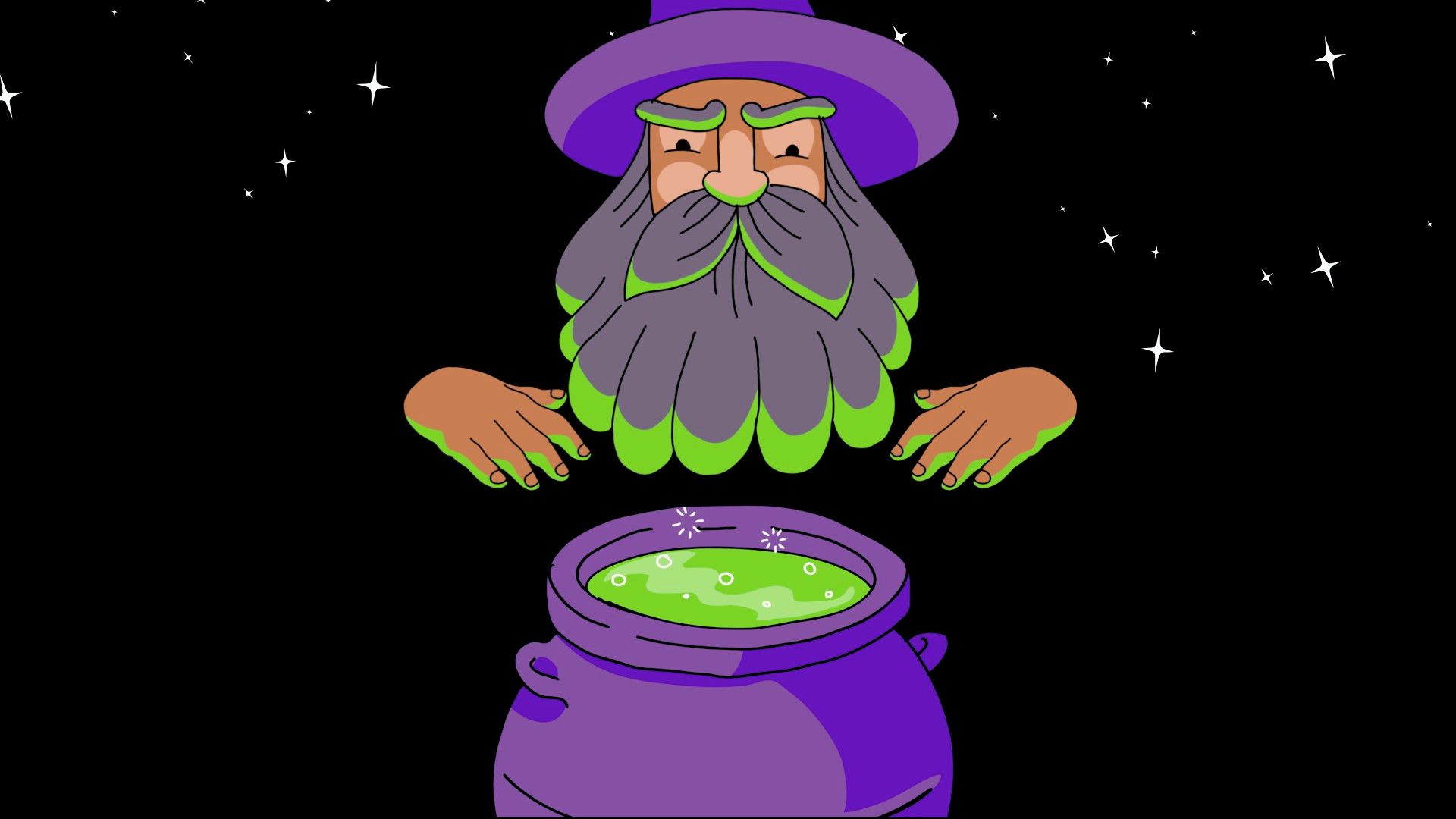 Software that's so powerful you'll wonder if it's… magic. Samsung presents the Magician Software, designed to support Samsung's memory products from internal SSDs to portable SSDs, memory cards, to USB flash drives. The latest generation of Magician Software comes complete by integrating Data Migration Software, Portable SSD Software, and Memory Card/UFD Authentication Utility, delivering a comprehensive solution for users. What's more, our support now extends to various operating systems, including Windows®, macOS® and Android™. With its intuitive interface and wide range of customization features, elevating your drive performance is now effortless – like magic.
*The features supported by each product category and operating system may vary. For more details, please refer to the information provided below.
*While some of its features support Samsung-manufactured OEM SSDs and SSDs from other manufacturers, Magician Software is designed and optimized specifically for Samsung-branded storage products.
*Magician does not work with SSDs connected via the SCSI controller interface.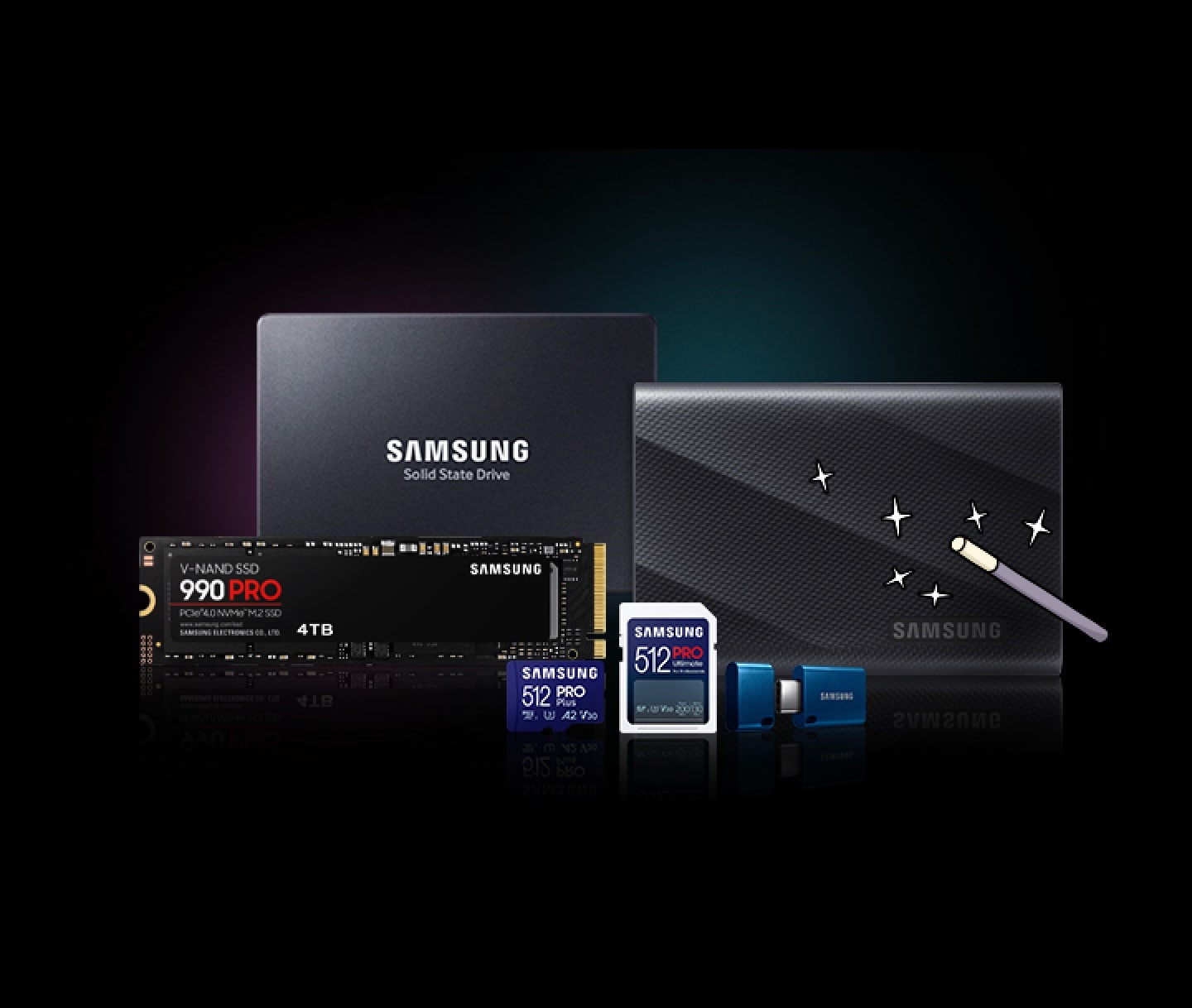 Drive Information
Drive status indicators at a glance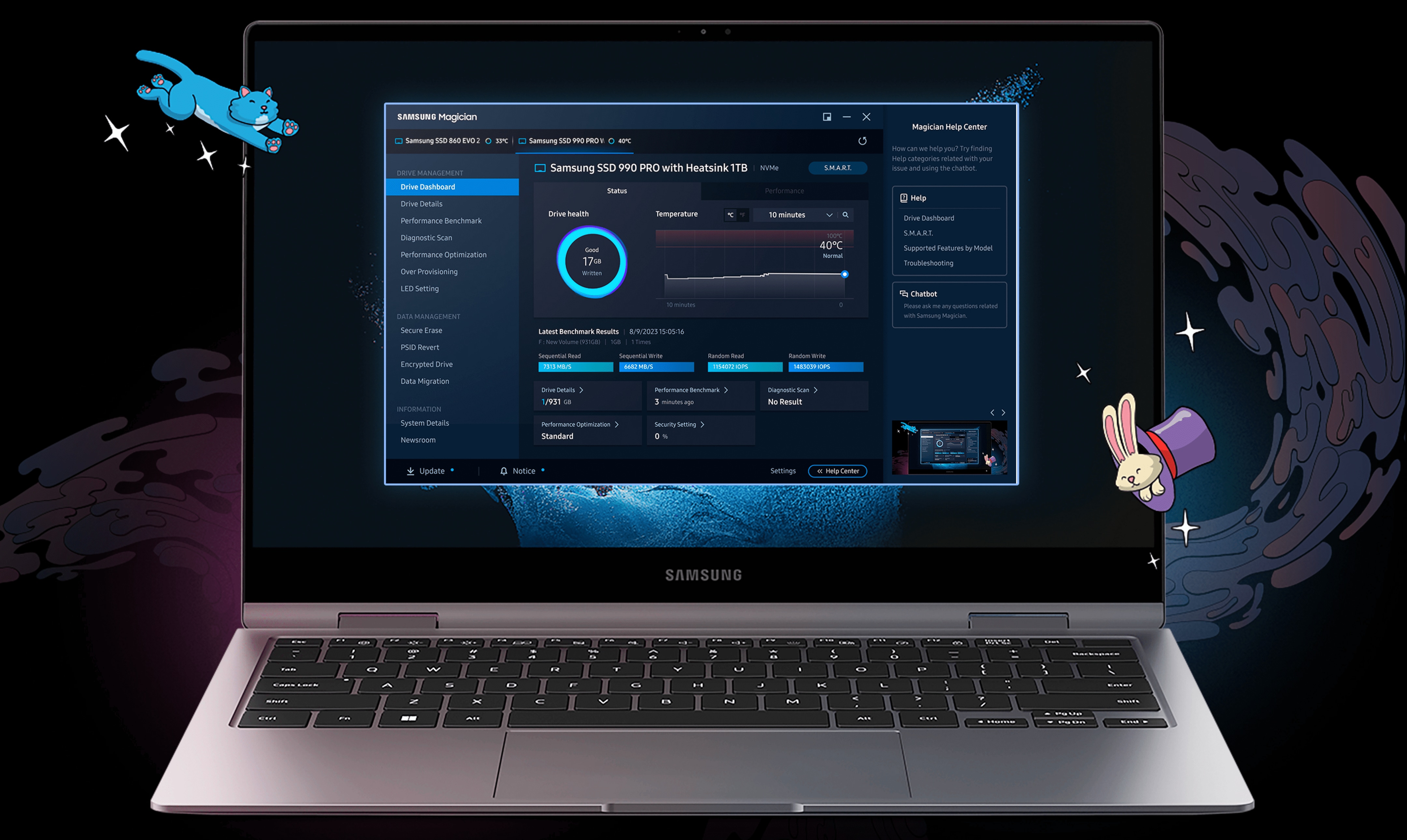 Integrative Drive Health Check

A quick glance takes you through your drive's overall health, temperature, performance, optimization rates, and more. Access real-time information of your drive anytime, anywhere.

Genuine Authentication

Authenticity is key to the magic. Unlock the performance that only comes from genuine Samsung memory products by verifying them through remarkably simple steps.

*Internet connection required for authentication.

S.M.A.R.T. Check

Worried about drive failures? Follow the magic that's in the S.M.A.R.T check. You can inspect the health of your SSD and detect failures before they happen.
Drive Management
A magic touch for
your drive's
health and
performance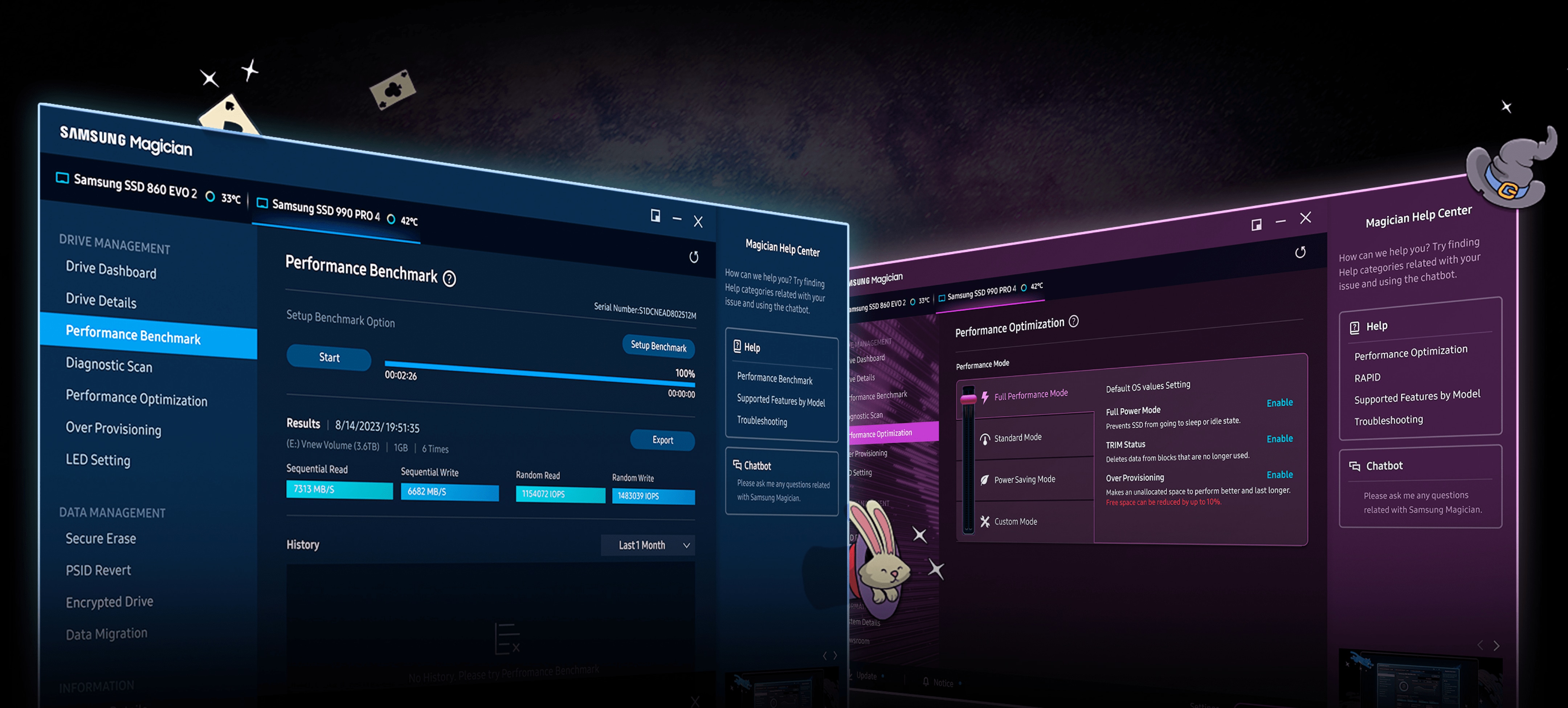 Performance Benchmark

The drive performance of your dream is now a reality with Performance Benchmark test. You can even customize your test conditions by adjusting test volume, chunk size, and more.

*It may be necessary to manually refresh the list of drive in System Information before performing benchmarking or performance optimization on a newly attached drive.

Performance Optimization

Whether you want full performance or power efficiency, Performance Optimization enables customization of the drive power and performance that is the best fit for your unique needs.

*Available mode options vary depending on the model/type of Samsung SSD.
*RAPID (Real-Time Accelerated Processing of I/O Data) Mode fully supported with proper system requirements. For example:
1) Window® 7 OS and above versions
2) 2GB RAM System memory or more

Diagnostic Scan

Instant test to immediately boost your drive's functionality. Pinpoint and solve any potential issues in simple steps using Diagnostic Scan.

Over Provisioning

Allocate free blocks to your drive space. Your drive will perform its routine maintenance more effectively, and deliver a faster speed with longer life span for elevated SSD experience.

*Over Provisioning is not supported for Windows® XP.
*If your system suffers from cluster misalignment, Over Provisioning may fail even though enough free space is available.
Data Management
Let Magician weave
its data management magic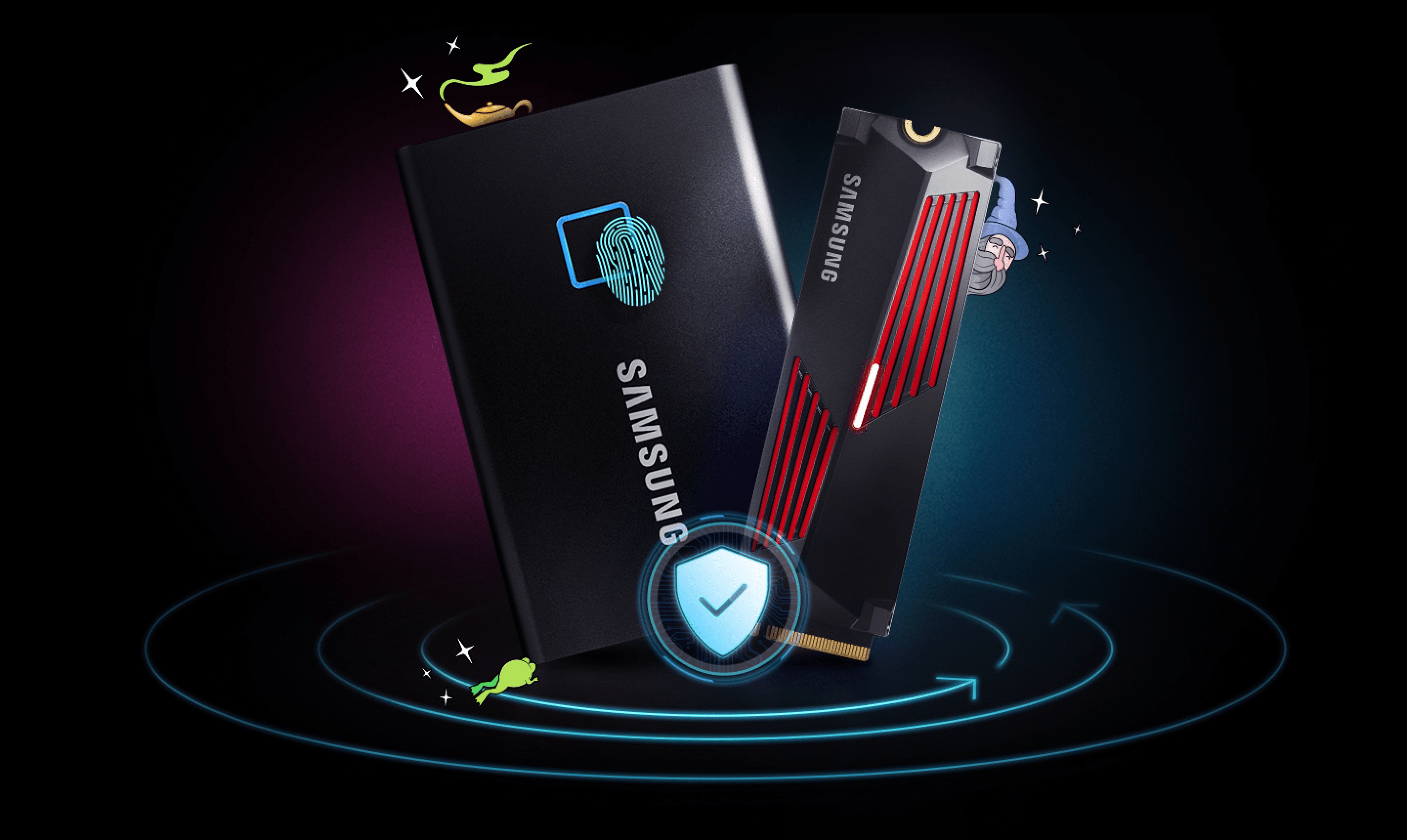 Data Migration

A safe and effortless way to migrate all your data – even your current OS, apps, and important files – from your old storage device (like an HDD) to the Samsung SSD. No fuss, just simple.

Secure Erase

Using the built-in secure erase solution, delete sensitive data in just seconds without losing the data you need or compromising the drive's functionality.

PSID Revert

Resetting your drive is quick and easy. All you need is the PSID password printed on the drive label.

Encrypted Drive

No matter where your life takes you, Encrypted Drive keeps your data safe. Enjoy hassle-free protection with an astonishingly simple setup.

*Encrypted Drive (BitLocker Drive Encryption) is a data protection feature available in all versions above Windows® 8 Pro,
Windows® 8 Enterprise, and all editions of Windows® Server 2012.

Security Setting

Supercharge the security of your portable SSD with an easy fingerprint and password setup.
Information
No hassle.
Answers are just a click away.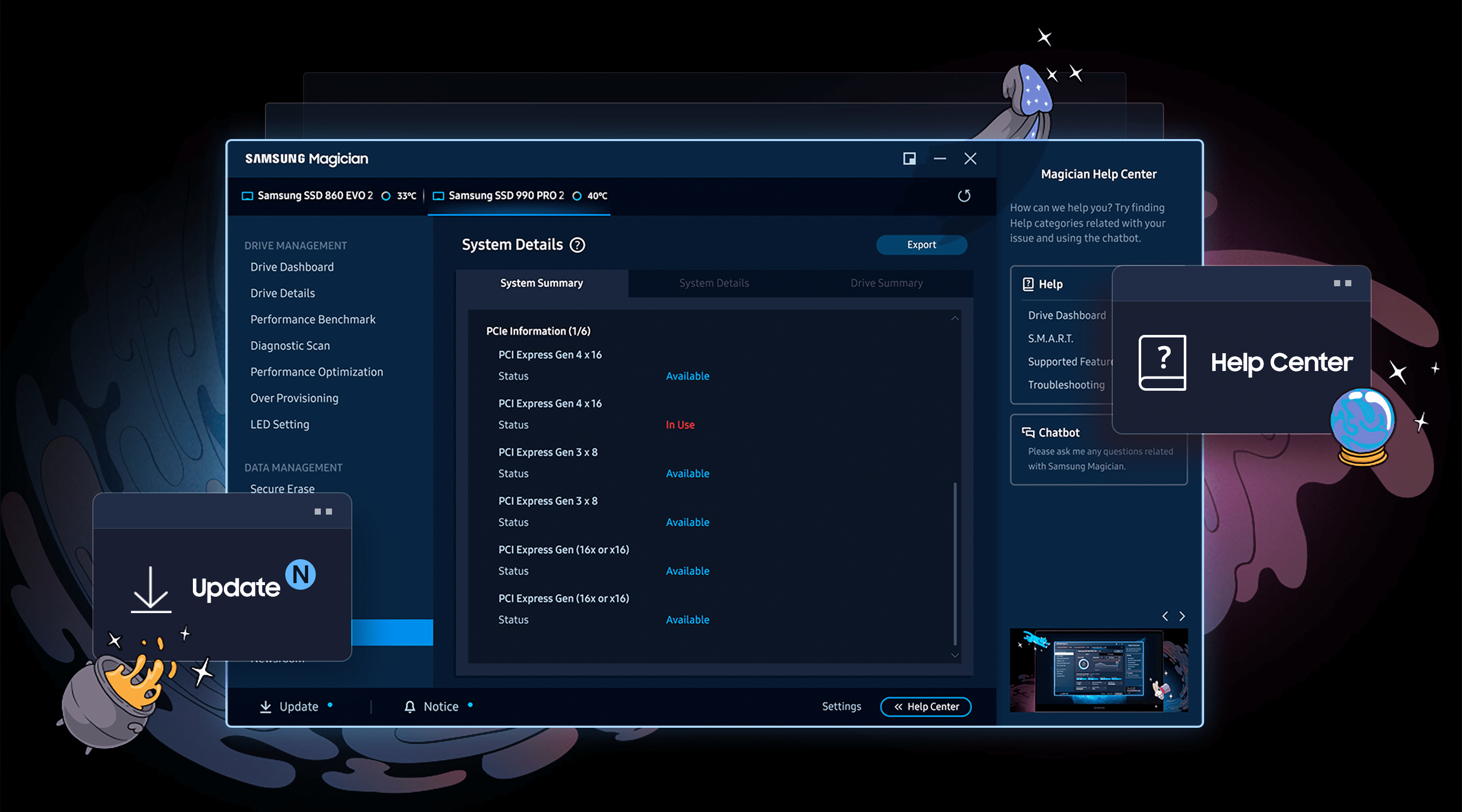 Information Check & Update

All the system & drive information you need can be found in one place. Timely reminders will automatically deliver all the important updates. Get insights into your PC's available memory slots to determine SSD compatibility.

Newsroom

Stay in the know with the latest updates from Samsung. Check out all the juicy details about our new products and super handy tips on our Instagram and YouTube channels.

Help Center

Help is on the way whenever you need it. With easy online access to support for Samsung SSDs, find tips and information on a variety of topics right from where you are.

*Contents of the Help Center are provided in the following 10 languages: English, Korean, Spanish, German, French, Italian, Russian, Portuguese, Chinese (Simplified), and Japanese.
DOWNLOAD FILES
Download now to keep your drive current and the performance up with this essential software toolkit.
Magician Software Installation Guide

Magician Software Open Source Announcement